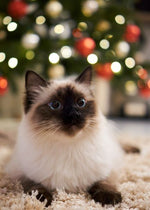 Can we talk about it yet? Christmas?! 😊
There's no escaping Christmas in the UK.  From as early as September we are told that, in order to have even a smidgen of fun, we need to buy, buy, buy! This year, perhaps more than ever, there has been a huge media push to 'get prepared' and panic buy as much as possible! It's not really surprising… This time last year so many of us had our Christmas plans cancelled as swathes of the UK were put into various degrees of lockdown at the last moment.  There seems to be a feeling of urgency about making this year's festivities count.  But how can we align this excitement with our need to minimize our own carbon footprints and create less waste? 
The good news is more people than ever are spreading the word that actually we can have a great time without buying lots of tat and wasting lots of food.  We have the power to vote with our feet and purchase festive items that have a lower impact on the planet, or better still, have a homemade Christmas.
Here are some ideas for enjoying a Christmas even Greta would be proud of:
Make a simple change to reduce plastic. If everyone is going to have a crisp, why not buy a large pack to share rather than individual small bags?
Do you need to wrap everything in plastic coated, glittery new paper? Take inspiration from Japanese Furoshiki and wrap your gifts in cloth as a fantastic zero-waste and plastic-free option. Scarves from charity shops work fantastically well for this and they even double up as an extra little surprise gift.  Not only does it look fantastic and helps recycle, it also cuts out plastic tape as you tie the fabric to fasten it. 
Weigh up the volume of packaging and the realistic usefulness of pet toys and treats before you reach for your wallet. It's fun to treat your pet but there's also a tonne of cheap items out there that are just there to make us buy more.  Check how strong a toy is, what it is made from and how much packaging it is wrapped in – biodegradable and recycled packaging are better options.  Chances are your pooch will be just as happy with a tennis ball than anything fancy and your kitty will love a morsel of turkey more than any packet of treats.. and the best thing is, they don't come covered in plastic!
It's easy to feel the need to buy lots for our kids too… But it can also be quite overwhelming for kids to receive loads and loads and it can leave parents feeling flat when they see their little ones too overloaded to remember their manners or to spend time valuing gifts. With all the coverage of climate change in recent months, this might be an opportunity to lead by example, make your actions match your words and cut down on excess this Christmas.  Why not try the four gift approach? This is where you shop for your child under the headings of something they want; something they need; something to wear; and something to read. 
It's easy to have eyes bigger than your belly on Christmas Day but make sure your compostable waste goes into your food caddy, or, even better, into your home compost bin.  You could even put a Hotbin on your wish list - they compost more materials, faster! They'll even sort out your turkey bones!
Focus on positive experiences for the whole family, rather than gifts and shopping. Why not make a cake or some biscuits and take them to your neighbour to help spread cheer? Visit a community event and take time to meet or catch up with people from your area.  Look out for those who may be finding Christmas difficult.  Reach out and start a conversation.
Take a mindful moment and step out into nature. A dog is a fantastic excuse to escape the intensity of the day.  Don't forget your Green Poop Bags… we don't want Rudolph tripping over any yule logs on the pavement 😊
Feature photo by David Köhler
https://www.hotbincomposting.com/about-us.html