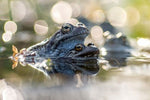 Take a lighter look at the world
Toad in the Road!
A West London road closed for over 3 weeks to allow toads to safely cross to their breeding ground on the other side.  The toads travel the 100m between Ham Common where they live much of the year, to the breeding pools on the other side of the road, every spring.  The road in Richmond was closed in March 2022 and remains closed for the foreseeable future to protect these precious amphibians.  A special fence has been installed and volunteers drafted in to help the toads on their journey.  And how can you tell your toads from your frogs? Toads do not hop, they crawl, it's toadally true :)
https://www.mylondon.news/news/west-london-news/road-closed-west-london-three-23328556
New GCSE in Natural History
Plans for a brand new GCSE have been approved!  The new qualification is set to be studied by 14-16 year olds from 2025.  The GCSE plans, backed by 39 organisations including the Natural History Museum, The Wildlife Trusts and Eden Project and supported by 17 universities, are the culmination of a decade-long campaign by naturalist Mary Colwell and leading environmentalists.  The GCSE aims to connect young people with nature and  equip them with the knowledge to help tackle and better understand future environmental challenges.
" GCSE in Natural History would reconnect our young people with the natural world around them. Not just because it's fascinating, not just because it's got benefits for mental health, but because we'll need these young people to create a world we can all live in, a vibrant and healthy planet." - Mary Colwell
https://teach.ocr.org.uk/naturalhistory
 Photo by Tim Mossholder
Beavers return to London after 400 years
Beavers have been reintroduced to London after an absence of 400 years.  The male and female are currently in a very large enclosure and it is hoped they will be released into the wild, following the pawprints of those already reintroduced such as those in Dorset.  Beavers increase biodiversity as well as mitigate flood risk in the areas which they inhabit.  Beavers are a keystone species and help to shape the land in which they live, creating wetlands, and slowing the flow of rivers and improving water quality through dam-building. 
https://www.nhm.ac.uk/discover/news/2022/march/beavers-reintroduced-to-london-after-400-years.html
Photo by Svetozar Cenisev