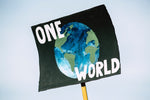 Will you be watching maypole dancers on the village green or revelling with the Green Man this May bank holiday?  Maybe you'll simply be taking the opportunity to light up the bbq with friends or family.   
Whatever you're up to, the reason you've got the day off has very ancient roots.  The Romans celebrated the festival of Flora, the goddess of flowers and spring, while the Celts celebrated Beltane, the beginning of summer, on the first of May.   
Mayday is a celebration of our fertile Earth and the changing of the seasons; a looking-forward to the abundance of harvest and the relatively easier living that the warmer days and longer hours of light brought to those ancient communities.   
The maypole that is so iconic in our British culture would originally have been a living tree.  The tree itself represented masculine energy whilst the colourful ribbons it was adorned with represented female energy.  Dancing around the maypole brings the two energies together and represents the fertility and abundance of nature. Now there's something to think about while you enjoy your cream tea!  
The maypole is the most visible remaining part of these ancient traditions but some others still remain if you know where to look.  In some towns and villages such as Padstow in Cornwall, the hobby horse tradition is still alive and well.  Men dressed in black, carrying a wooden horse mask career through town catching maidens as they pass.  Many villages welcome morris dancers into their midst on Mayday and there remain Maying parades and the crowing of the May Queen too.  You might even spot the Green Man making an appearance – if only on the pub sign that welcomes you in for much earned refreshment on the (hopefully sunny) day!  
This Mayday offers an opportunity to reflect on our own relationship with Mother Nature.  What changes have you made since this time last year? How far have you come on your journey towards generating less waste and using less plastic? Whatever changes you have made, our Mother Earth is grateful. Spread the word, help normalise taking these small steps.  What easy swaps would you recommend to a friend who is just starting out? We know an excellent plastic-free poop bag they could try 😉