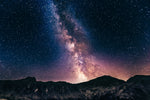 When was the last time you looked up at the night sky? It's a habit I have got into when letting the dog or cat out before bed.  I make sure I take a moment to stand on the grass, look up and breathe in the cool night air – it's actually pretty mindful.  I can't be the only one who thinks so, because 15th-22nd April is International Dark Skies Week! The week of the new moon is all about educating people about the impacts of light pollution and how to take action.  The week aims to promote interest in astronomy, temporarily reduce light pollution over that week and also encourage kinder, eco friendly alternatives, such as shielded, downward pointing lights.
Team GREEN POOP BAG is fortunate enough to be based on the edge of a designated dark skies reserve.  With very little light pollution, even outside of the reserve, it is possible to see the milky way on a clear night and be able to identify some planets with the naked eye.  Living in a village without streetlamps, any external light sources, such as security lights, seem very noticeable – it's almost like an alien invasion when they switch on! In more built-up areas light pollution is so normal that we hardly notice it, but it can have a detrimental impact on many species. 
We all know that many birds wake up at dawn, but did you know that artificial light can have an impact on their behaviours? It can also harm our insects and bats.  A recent study by Butterfly Conservation found that abundance of moth caterpillars at lit verges was 33% less, and 47% less in hedgerows, compared to equivalent, unlit land.   Lighting around or inside bat roosts can actually prevent the bats from coming out to look for food.  Some of the larger, slower moving insects that the bats feed on avoid lit areas too, doubling the problem and resulting in lower chances of survival for bat young. 
So what can we do? Well, have a look at idsw.darksky.org for some ideas about your own lighting.  Consider writing to your MP if there are streetlamps or business lights you are worried about.  Step outside and have a look – we will all do more to protect those things we care for, so create a relationship with your skies.  We like to look for Orion with his belt – and the plough or bendy saucepan!  Let your eyes adjust for a few minutes and you will see more and more.
International Dark Skies Week is a great opportunity to talk about and appreciate our skies and to raise the question environmentally friendly alternatives to artificial lighting.  Have fun!
https://idsw.darksky.org/
https://butterfly-conservation.org/news-and-blog/streetlights-reduce-moth-populations
https://www.bats.org.uk/about-bats/threats-to-bats/lighting
Photo by Denis Degioanni