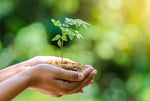 We've always known that both our products, and our wider environmental plans, are fantastic… so it makes us feel all warm and fuzzy when this is recognised officially.  We are so excited to announce that The GREEN POOP BAG has received the Green Apple Gold Award for Developing Environmental Best Practice 2020.  Being placed first in a pool of over 500 other environmental frontrunners is an honour and an achievement we're really proud of.
The Green Poop Bag has two big ambitions:  tackling pet waste disposal in the most environmental way possible; and putting this waste to good use by creating compost and energy with it.  So what set us apart from the other nominees? It was our well-rounded, zero-waste and plastic-free mission credentials; our premium design specifications; and, most importantly, our green legacy goals that brought us this award 😊
And the great news doesn't stop there! The Green Poop Bag has also been offered the tremendous opportunity of becoming a Green World Ambassador.  This means we will be sharing our expertise with shipping companies all around the world. Our award-winning initiative will also be highlighted in The Green Book, the world's only annual reference book on environmental best practice.  It's like the Who's Who of eco companies 😊
We had a great evening meeting other winners at the awards ceremony in London.  It was the best feeling to see so many businesses putting our planet at the heart of their plans 😊‍
About the Green Apple Awards
The Green Apple Environment Awards were established in 1994 as an annual campaign to recognise, reward and promote environmental best practice around the world. The Green Apple Awards scheme was one of the first to be accredited by the RSA as an official feeder scheme into the European Business Awards for the Environment and is still one of only a handful of accredited campaigns. The aims of the Awards are:
To improve environmental performance;
To encourage the efficient use of resources;
To enhance the competitiveness of organisations;
To support the wider goals of sustainable development, including social benefits, through community and staff involvement;
To help winners benefit from their environmental endeavours.