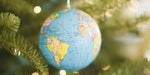 Ready or not, Christmas is coming😊
Most of us think of Christmas as simply a joyful time when we look forward to getting together with our family and friends, spending time together and surprising them with something nice to open under the Christmas tree. But, in contrast, Mother Earth is embracing for the worst few weeks of the year and is just praying she will survive.
Why is that? 

It might seem like the most wonderful time of the year, but our annual festivities have some shocking environmental consequences. Our overindulgences don't just affect our waistline, they represent an industry worth £42bn to the UK economy. Did you know that the 10 million turkeys, 370 million mince pies and around 205 million glasses of champagne that we in the UK place on our tables each year, cost the Earth 51,000 tonnes in carbon emissions? That's the same as driving a car to the moon and back 300 times!  Even worse, with our eyes bigger than our bellies, 230,000 tonnes of unneeded Christmas food will end up in the waste☹


And this is only part of the world's greatest annual environmental disaster.  UK households will throw away 125,000 tonnes of plastic packaging for gifts.  The lights we love to make our homes twinkly with at this time of year aren't just damaging for electricity use, they can cause confusion for the wildlife who struggle with the sudden illuminations. And how about the Christmas trees? While many of us are boycotting palm oil use to avoid horrific deforestations, we somehow don't bat an eyelid to the 8 million trees that are cut down each year for UK households to show off their yearly decorations on Instagram. And finally: gifting.  It might seem wonderful to have so many toys under the tree but by March 41% of toys will have broken or our children will get bored of them.  Most of them will end up in the tip. 
So are we saying Christmas is cancelled? We might be as green as the Grinch himself, but don't worry, we are not going to steal your Christmas!  With just a few simple adjustments we can all have a greener and greater Christmas that doesn't cost the earth.  If everyone joins in, you will have the greatest time.
So what can we do?
Consider your shopping list. Don't food shop in unnecessary bulk.  It can be tempting to buy lots and lots "just in case," but there will be plenty of opportunities to shop for more food if needed, so just buy what you really need.
Why not ditch the traditional Christmas tree and hire one instead? It will come in a pot to be re-planted when the festivities come to an end and live to see another year!
Get crafty and make some cards at home re-using your last year cards or calendars.  It's great fun cutting out various parts and creating something completely unique to give away.
Finally, the stockings…  How can we fill them whilst keeping to our greener Christmas plan? That's where we at The Green Poop Bag are here to help😊

We have created some very special Green Poop Bag Christmas bundles which are not only great gifts for pet owners but also help you contribute towards a greener Christmas for Mother Earth. We will send your selected bundle to your family or friend directly and include a personalised note to make sure they know who has been thinking of them with an additional bonus of a 15% off discount code for their next purchase. As you probably know our bags are made from natural ingredients and completely biodegrade, leaving zero harm to our environment, within just a few weeks. They are also certified home compostable and packed in recycled packaging. And that's not all, we have also reduced our shipping costs so if you order 3 products or more the postage is on us😊



The deadline to order your special gift is 15th December as we want all your lovely green presents to arrive on the Royal Mail sledge on time😊

For more information about our bundles visit our webpage: www.greenpoopbag.co.uk or click on selected pictures below

GREEN POOP BAG CHRISTMAS GIFT BUNDLES

Cupid 1 x 120 box (bags on roll)
+ 5x large singles + 15% off personalised gift card - £8.50 

Comet 2x 120 box (bags on roll)
+ 5x large singles + 15% off personalised gift card - £16.50 

Rudolph 3x 120 box (bags on roll)
+ 5x large singles + 15% off personalised gift card - £24.50 +FREE SHIPPING