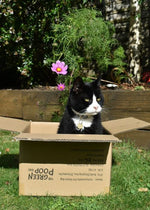 So what's the problem with packaging?
Figures from UK parliament 2017 show that the UK recycles or recovers only around 70% of packaging waste.  A further 0.7 million tonnes are recovered from energy-from-waste incineration. The global pandemic has resulted in more buying, and, consequently, more waste packaging, so you can imagine how these figures will have changed for the worse.  Recycling has suffered too as some recycling collections were deemed non-essential and suspended during lockdowns.  This led to a large rise in fly-tipping and problems at the other end of the chain too as recycled packaging makes up a key raw-material for making new packaging. 
At The Green Poop Bag, we believe our shopping habits shouldn't cost the earth.  That's why our innovative packaging doubles up as both a container for your poop bags and a postal pack too. 
How clever is that?
Made from recycled (and recyclable) cardboard and even tape (this is a plastic-free zone!), and fitted snugly around the product, we lessen our impact on our planet's precious resources, and create a lighter load for your postie too! The neat package fits nicely in your kitchen drawer and keeps extra shipping boxes out of your recycling bin.  With your address label put straight onto your order, there's no need for extra layers, and the slick system means your compostable poop bags will arrive swiftly too, before you can say "the cat's pyjamas!". 
Of our packaging waste produced in the UK, Paper and card are the largest contributors at around 47 million tonnes.  These materials have a 79% recycling rate which might sound good but we are still way behind the top performer: Belgium, who have an overall recycled or recovery rate of 83.8%.  You can see why reducing packaging used in the first place and using recycled packaging is so close to our hearts.
"Why don't you sell packs of 60 bags?"
It's true that some manufacturers do offer 60 packs but we think that if you're calling yourself 'green' you shouldn't really be offering this option at all, let alone as a monthly subscription.  Think of all that extra packaging, fuel and shipping resources.  At The Green Poop Bag we put our thinking cats on 😉 and worked out it's far greener to pack and send a larger package than to do the same thing twice or three times over.  We know you'll love our plastic free poop bags and come back again, so we offer the larger packs to help save on resources and also to save you on postage!  We'll even thank you with free shipping when you choose our 360-EcoBox.  If your family or friends have more than one pet, then our top tip is to order together to help save even more!
Innovation and green credentials are at the heart of everything we do here at The Green Poop Bag.  By purchasing our biodegradable, compostable poo bags, you are helping create a legacy for our planet and to lighten the load for our environment. That's got to be something to woof home about!
 Packaging and postal box in one.
Larger packs save both the environment and your pocket.
Plastic free, zero waste.
EU13432 certified home compostable.
Eco friendly dog poo bags.
Cornstarch poo bags